Experience The Difference
Most convenient to Downtown, La Jolla and Rancho Santa Fe. No traffic. No hassles.
Great locations – Only 20 mins drive to/from Downtown & La Jolla
Most Economical Alternative to KSAN • 3 RWYs – 5,341 ft longest
Can handle up to a Global Express
No noise abatement
No marine layer
No landing fees
Open 24/7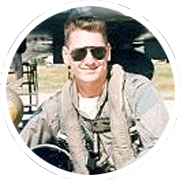 Meet "Bones" AKA Dee Conger Jr.
At age 17, Dee soloed in a Citabria and went on to receive his pilot's license that same year. After graduating from college, he worked for a short time in the business world, before returning to his first love, flying. He was fortunate to be selected for the USAF OCS program, and entered the USAF pilot training in 1988. After graduating top in his class, he went on to fly the F-4E Phantom II at George AFB in California, and then went on a follow-on tour at Clark AFB in the Philippines.
"My company had the opportunity and privilege to host a show and tell at Circle Air Group. I cannot begin to sing their praises loudly enough. The facility is gorgeous, the staff incredibly accommodating and handled all the aircraft with special care including repositioning them as needed. The experience was phenomenal with friendly, patient staff and again, a gorgeous facility."